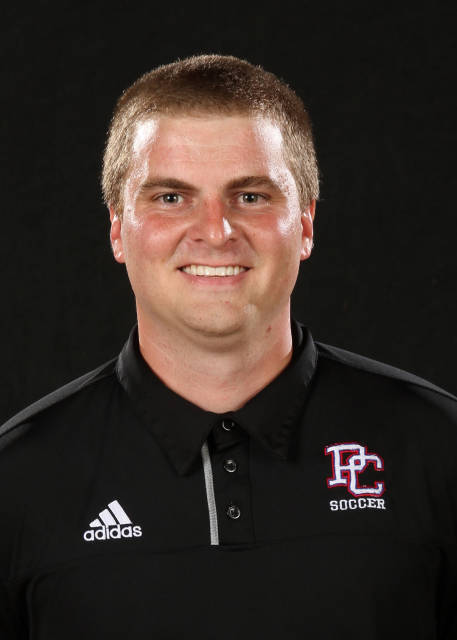 Head Coach
Jonathan Potter
Jonathan Potter is entering his third season as head coach of the Presbyterian College men's soccer team in 2018. He has posted a 13-19-8 record in his fist two seasons along with winning a Big South Championship and going to the NCAA Tournament.
In 2017 Potter led the Blue Hose to a 6-9-5 record and won the Big South Tournament Championship. They went 3-3-2 in Big South regular season play and given the six-seed in the Tournament. The Blue Hose scored an NCAA Division I era record of five goals in the Blue Hose win over Campbell. They got Campbell again in the Tournament and defeated the Camels 2-1 advancing to face Radford and then High Point. PC would tie both the Highlanders and Panthers advancing on PK's in both cases.
PC drew UNCW for its first NCAA Tournament opposition. This was the third straight game that went to overtime tied 0-0, the Seahawks scored in the first OT period ending the Blue Hose dream run.
In his first year at the helm, Potter guided the Blue Hose to a 7-10-3 overall record with a 4-4 mark in conference play. The seven wins marked the third biggest turnaround last season in NCAA DI and is the most wins in a season in program history. The No. 5 seed in the Big South Championship, PC upset fourth-seeded Liberty 2-1 on November 6 for the program's first ever victory in the conference tournament. The Blue Hose faced top-seeded Radford in the program's first-ever semifinal appearance, falling to the Highlanders on penalty kicks after playing to a 1-1 draw in regulation. Potter saw four players earn annual awards, to include a pair making Second Team All-Big South, one Honorable Mention and an All-Freshman honoree.
Prior to PC, Potter spent five seasons at Elon as an assistant coach where he helped the Phoenix win five conference championships and several NCAA Tournament appearances, including advancing to the second round in 2013 and 2015.
During Potter's tenure, Elon achieved its highest national ranking of eighth, highest season ending RPI at 20th and most victories in program history, winning 15 matches in 2012 and 2013 and 14 in 2015.
Potter was also instrumental in overseeing the development of several players who are or had played professionally including Austen King (Carolina Railhawks), Gabe Latigue (New England Revolution) and Daniel Lovitz (Toronto FC). He also saw Elon goalkeeper Nathan Dean become the program's all-time career leader in shutouts under his tutelage in 2014 and mentored a number of all-conference honorees during his five seasons.
Before coaching at Elon, Potter was an assistant with the Carolina Dynamo of the Premier Development League (PDL). The Dynamo won the 2011 South Atlantic Division title and qualified for the U.S. Open Cup.
Potter, who holds a "B" US Soccer Federation Coaching License and an advanced diploma from the NCSAA, also served as the director of men's soccer operations at Davidson College, where he assisted in training, filming, editing, and analysis.
A four-year starter at Chowan, Potter appeared in all but one match during his career. He holds a bachelor's degree in physical education with a concentration in sport management and a minor in business administration. He earned his master's degree in athletic coaching education from West Virginia University in 2012.
In 2009 he trained with a professional team in Argentina and prior to that, played in the United Soccer League with a Northern Virginia Royals' super-20 team that reached the 2008 North American finals.
Potter is married to the former Melissa Cochran of Macon, Ga.